Ioannis Makropoulos, FNET, Leader WP6
Use-case scenario
This use-case scenario shows the capabilities that advanced anonymization techniques, which will be developed in Safe-DEED and which are provided in data marketplace, can have for advanced marketing activities, such as correlating anonymized banking and telecommunications data. In this case we are able to provide timely and meaningful information towards targeting profitable customers at a local level.
The Telecommunication- and Financial-Industries show a positive long-term correlation trend[1]. In these two sectors specifically, and contrary to all others studied, there is a long-term correlation trend. This means that both industries, as well as and perhaps even more important, their target consumer bases, evolve in parallel and share important similarities that reflect both at macro and micro-level. This creates an interest for both industries: to target the best customers of the other to guarantee a growing business. Subsequently, this justifies the sharing and correlation of data between the two industries for marketing purposes.
Enterprises use demographics and life-style data to extract meaningful information on their target customers base. However, most companies use ad-hoc methods, which provide results of high uncertainty since data are collected via different methods in different time periods. A promising approach would be to correlate up-to-date financial and telecommunication customers' data at a local level. Such information could give timely valuable insight on the actual disposal income and spending habits of the targeted region. Despite the benefits, current methods impose significant obstacles to the analysis:
There is no permanent process available that enables the sharing of up-to-date data between telco and financial operators
There are no trusted third party environments that are able to provide compliance and anonymization services or at least their activities are limited.
Using Safe-DEED developments, both Financial- and Telecommunication-Enterprises will be able to share anonymized up-to-date data in a sustainable and GDPR compliant manner in order to target marketing actions to specific local areas.
Business Case description
As part of this business case, we leverage the power of Safe-DEED developments in view of securely sharing data between institutions that apply anonymization/deanomymization services and smart Big Data analytics for marketing analysis.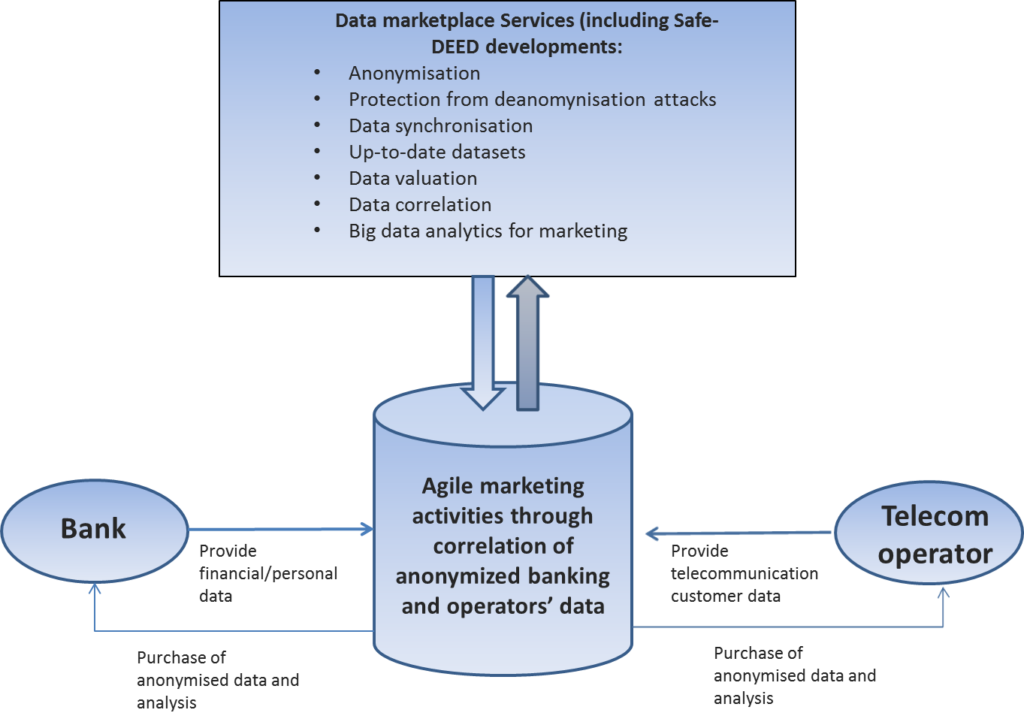 Fig. 1 Agile marketing activities through correlation of anonymized banking and operators' data, powered by Safe-DEED
The business case entails collecting financial and  telecommunications customers data from respective Banking- and Telecommuncation-Enterprises. Data will be anonymized and subjected to deanonymization tests according to GDPR and company compliance policies. The next step will involve data synchronization, correlation, and analysis to identify optimal target base groups for specific marketing activities for each one of the individual enterprises participating.  This could result in the identification of potential common marketing activities. Safe-DEED developments will provide meaningful tools throughout the process.
Expected benefits
The expected benefits are two-fold:
to provide better insight of the data to provide better planning of local marketing activities instead of current practices, which are mostly based on life-style geographical data;
to enable access to external up-to-date datasets in a consistent and GDPR compliant manner.
Automating to a higher degree data collection and analysis of heterogeneous enterprise data could also lead to reduced costs. It will also help improve the effectiveness of the targeted marketing actions and accelerating their handling, thus allowing strategy and sales departments to plan, deploy and evaluate scenarios and activities in a consistent and timely manner and thus eventually helping enterprises to remain competitive in Europe and globally.
———————————————–
1See  "Correlation dynamics of global industry portfolios" by Miguel A. Ferreira, Paulo M. Gama: http://docentes.fe.unl.pt/~mferreira/index_files/ind.pdf